Today I am joining Barb at
http://gritsglamour.blogspot.com/
for today's edition of What's on Your Wall Wednesday. Please visit her blog and look at all the links to other's wonderful wall decor items.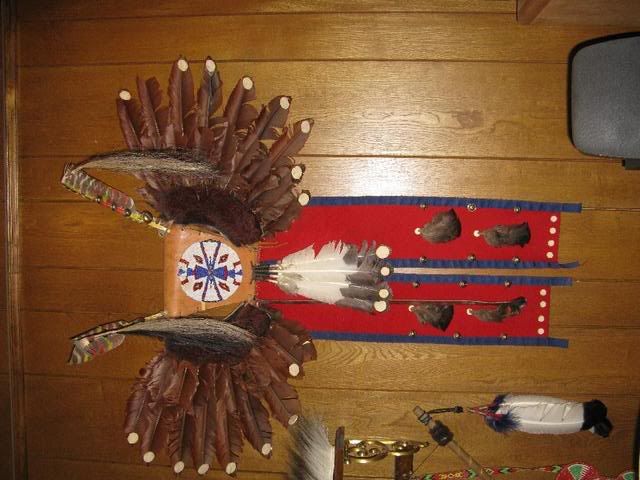 I wasn't planning on joining this today since I needed to take some more photos and find something just right to post. However, as I was uploading some photos to my Photo Bucket account tonight, I ran across this one of my late son's Native American dance bustle. Mickey was a part of the Order of the Arrow dance team in Boy Scouts. This was one of his beautiful bustles called the butterfly. The bustle "wings" actually looked like butterfly wings as they gracefully moved with the rhythm of the dance to the wonderful flute music and beat of the drum. This is one of two of his dance bustles. They both hang in our family room along with other items from his dance attire. I have always loved the Southwest and my distant Native American heritage, so my decor is all in this style. Having his items make it all the more special.
We lost Mick in 2003 after a life long battle with numerous illness and surgical problems that he had from birth. Despite his almost 24 year battle with health issues, he led a full life. Yesterday, while DH was digging up a tree trunk close to our newly screened in porch, he hit a plastic jar. I happened to be working on the decor of the porch when he found it. He immediately came inside and showed me what he had unearthed. It was a large plastic jar that was covered in plastic and contained something wrapped in foil. The jar had been surrounded by bricks and buried in the dirt. The tree trunk and roots had also sort of surrounded it. When we opened the jar, we were both surprised to find a sort of time capsule that our son had buried. It contained a Scout swiss army knife, four quarters, his first driver's license and two printed copies of his high school schedule from the start of his junior year. Needless to say, we both burst into tears.
This is a particularly hard time of the year since we lost him in early July. However, finding this little time capsule of things that he had buried, brought some joy to both of us. It was as if he was saying, "I'm okay." Then tonight, I ran across this photo. I knew that it was a great opportunity to share this story and a little of Mickey's wonderful spirit.
We can only guess at the significance of the items in the jar. He received his Eagle Scout Award toward the end of his sophomore year of high school. He also got his driver's license around that time. He laughed that he didn't have the learner's permit very long, because he turned 16 not long after finishing driver's education. At that time, we bought him a small car and he started his junior year of high school with this new independence. All of these items seem to mark these things. The quarters are a puzzle. I know that he collected all of the state quarters as they came out. These four are so dirty and sort of corroded that you can't tell what they are or the dates. I do plan to clean them up to see the dates. However, this little surprise has made these days somehow easier for me.
Thanks Barb for giving me this opportunity to share a little about my wonderful, amazing young son.