Suzy at Kitchen Bouquet is hosting this wonderful Ice Cream Social Weekend for blogland. Click
here
to go to her party. She started the party with a wonderful tour of photos and graphics of old fashioned ice cream parlors and all things ice cream. Suzy even shared many of her ice cream memories with us. Be sure to check out her post and the links to all the participants in this fun event.
I'm in the midst of my Christmas in July celebration and when I heard about this social, I thought it would be fun to mix this with CIJ. Like everyone else, I have fond memories of church ice cream socials, neighborhood homemade ice cream parties and the special treats of just making homemade ice cream just because.
My earliest memories are of churning the ice cream for what seemed like forever. I remember having to sit on top of the churn atop the wooden bucket to keep it from moving around. We always made vanilla ice cream, but my neigbors were more adventurous and had things like peppermint, chocolate, banana, peach and strawberry. I always loved the flavors, but vanilla was my favorite.
We always used eggs, but in recent years, that became a health hazard, and I started using condensed milk to avoid the use of eggs. I also found many other flavors and styles of ice cream through the year. Still, homemade vanilla is my favorite. I want just it, no toppings, sprinkles, nuts, or other additions. I guess that makes me boring.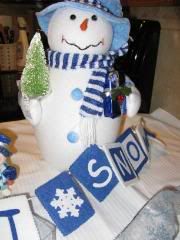 However, there is one type of ice cream that I love more than slow churned homemade vanilla.
It is
SNOW
ice cream. I guess what made it special was the fact that I didn't get to have it often. I grew up in West Texas and although we had our share of snow, it wasn't always deep enough to make ice cream. When I was a young child there were years when my parents wouldn't let us make it because they were afraid of it having radioactive "stuff" in it. I never really knew (or cared) what this was. I was just disappointed that we weren't allowed to make snow ice cream. I remember hearing whispered conversations about the Cold War and fallout.
Shesh, this interrupted a perfectly wonderful childhood tradition.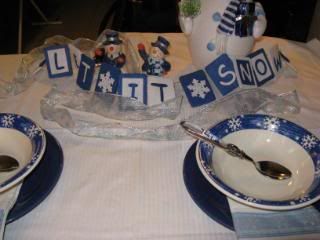 When I was in junior high, my family moved to North Texas and we didn't get snow as often. I felt deprived during the winter. However, when my children were little we had several years in a row where we received lots of snow. It was marvelous for someone who enjoys the snow so much. I was even able to introduce my son and daughter to fabulous snow ice cream.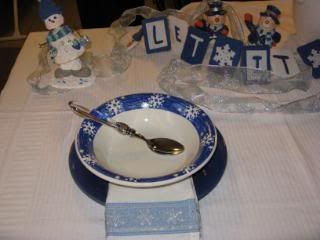 When my daughter was quite young, she decided that she wanted to make the snow ice cream on her own. She called her Grannie Ida and asked how to make it. Of course, Grannie obliged and off Tracie and Mickey went to find the appropriate amount of snow to make this treat. Recently, I was looking through a recipe box and found that handwritten recipe in Tracie's childish handwriting. It is now a priceless heirloom that I hope to pass on to her children someday. At the moment, Duke, the Mini Pin, is my only grandchild---uh make that grand dog! But, he does love ice cream, just not snow. Maybe we will tempt him to venture out into the snow this winter with a promise of a bowl of snow ice cream.
Tracie and Grannie Ida's Snow Ice Cream
(with the original spelling)
Clean snow
2 table spoons of milk
2 or 3 table spoons of suargar
1 or 2 drops of vanillia
Big bole Stir it up
and if you need more snow put some more milk in it.
Here is a copy of the orignial hand printed recipe. It was written in red ink on a piece of notebook paper. I found it folded up in my recipe box.
Thanks Suzy for hosting this wonderful event. It caused me to remember some great memories and spend this very hot afternoon indoors with the central air cranked down to escape the triple digits heat and dream of cooler weather and snow.
Since I was spending a nice leisurely afternoon in the coolness of the house, I decided to take advantage of my decorated table for my CIJ Tablescape Party this week. featured some snowman dishes. I had the breakfast bar decorated for a small ice cream social that I am having this evening. We are going out to eat with some friends and coming back here for ice cream.
All of this decorating made me hungry, so I expanded the ice cream social to include a lunch for one. I fixed a turkey breast sandwich, with mayo, pepperjack cheese, and red onion. I finished my impromptu lunch off with a Clausen pickle spear and a glass of iced tea. With the heat index at 110 degrees on Friday, a cool sandwich was the perfect addition to my day.