Our wonderful hostess for today's Ice Cream Social is Jenn at
Eye Candy Creations
. Jenn, Grant and Vivian have a wonderful day planned for all of us. Click here to attend Jenn's party and find links to the other participants.
Another weekly blog event that I love is Blue Monday hosted by
Smiling Sally
. I had decided that since I was so tired from all the blog parties over the weekend that I wouldn't participate in her event this week. Then it hit me that all three of my parties had lots of blue in them. So I am linking to her Blue Monday event here. If you are here to see the blues, be sure to scroll down to the other ice cream social I participated in over the weekend and my Christmas in July Tablescape Party that both were really, really BLUE.
Remember to leave each of the participants at both Jenn's Ice Cream Social and Sally's Blue Monday a comment.
I scream, You scream, We all scream for comments!!!
Well maybe that is for ice cream...
But, we do love hearing from our guests!
Whew, I need a few days vacation to rest from all the blogland parties this weekend. However, I guess I will have to settle for some fun time today at another ice cream social. I attended an ice cream social on Saturday where I extended a variation of my snowman theme from my CIJ Tablescape #2 Party. I shared some wonderful memories with the guests and an ice cream delight that many had never tried. It was snow ice cream and can only be made during the snowy weather. LOL. Scroll down to that post and Suzy's Ice Cream Weekend Social if you didn't get to attend.
But, now it is time to relax and enjoy some good old fashioned homemade ice cream---vanilla of course. I will share some non-vanilla variety recipes with you before I leave Jenn's ice cream social today.
Vanilla has always been a favorite for me and I LOVE the soft serve cones from Dairy Queen. We don't have a DQ, but a neighboring town still has two, and I occasionally go by for a cone. Back in March, my sister, Barbara, and I made a long trip from Texas to South Carolina. On the way home when we stopped for gas we spotted a DQ sign and just had to pull in and have a large cone. It was wonderful.
The little cone on my table centerpiece reminds me of the DQ soft serve cones. They are a delight to look at and to eat.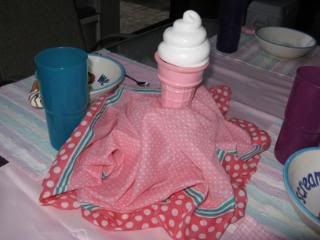 I had already signed up to attend Suzy's ice cream social event on Saturday at Kitchen Bouquet when I found the invitation to today's event at Eye Candy Creations. I thought about doing a double post, but decided that it would be more fun to have two real ice cream events in one week! Plus, I found some adorable ice cream bowls and spoons and just had to use them for something special.
My dear daughter Tracie (of the now blog famous snow ice cream recipe) returned Sunday from a week long cruise to Montego Bay, the Grand Cayman Islands, and Cozumel. Since Tracie, is our only living child, we sort of pamper her. So, I decided to have a welcome home party by way of the ice cream social. Tracie, like her mother, prefers homemade ice cream to be vanilla, thus our plain Jane version at today's event. Maybe someone will host another ice cream party and we can show off our ice cream skills later.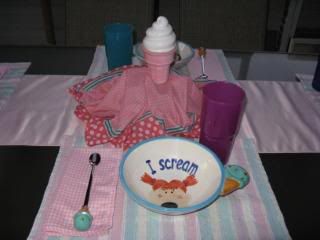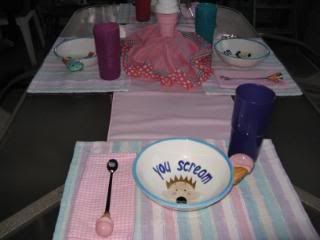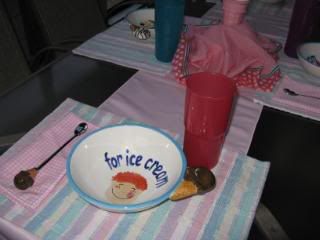 Tracie came in Sunday afternoon from her cruise and we added two Carnival glasses to the centerpiece since they seemed to fit right in.
The ice cream was good, but I prefer the way I usually make it, and I tried something different today. In fact, I still prefer the flavor of the homemade ice cream made with raw eggs, but I guess those days are gone. I used half and half today and didn't like the end result as much. Mr. Printersdevil was also not as pleased with it, although he ate three bowls!
Even though we didn't eat the ice cream until around 8 p.m., it was still too hot to enjoy it outside. We snapped a few photos and retreated to the air conditioned house.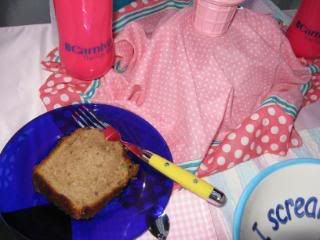 I also served Sock-in-to-me cake and iced tea. Iced tea is a staple in our house year round.
We have a possible break in the triple digit and even higher heat index on the horizon for the week. Yeah! We will have to make ice cream again when we can enjoy it on the porch.
Did you like my ice cream bowls and cute spoons? I found those this past week at a Goodwill in a neighboring town. They had just put them out on the shelf. The spoons were still in the styrofoam container. I paid $2 a bowl and $2 for the spoons. The little ceramic ice cream cone was also found there. It had been on the shelf for months and I kept looking at it and wondering how I could use it. It was only 50 cents!
Here are a few recipes that I promised to share.
Orange Pineapple Ice Cream
2 cans Eagle Brand sweetened condensed milk
1 small can crushed pineapple
6 10-oz bottles of Orange Crush soft drink
Combine all ingredients. Mix well and freeze.
Big Red Ice Cream
2 cans Eagle Brand sweetened condensed milk
2 pkg. frozen strawberries
6 10-oz bottles of Big Red soft drink
Combine all ingredients and mix well. Then freeze.
I have a Milky Way ice cream that I really love, but I couldn't find the recipe today. It is very decadent. I called a friend to see if she has this one and she promised to look through her recipes. I couldn't even find it online and was afraid to give it from memory since it is not cheap to make with all the candy bars. If I find the recipe, I will do another post.
I hope that you enjoyed our homemade ice cream and cake social today. Be sure to stop by at Jenn's and visit her party, as well as all the other's participating today.
Thank you Jenn for hosting this wonderful event.