I hope I am not the only one at this week's party. Invitations were sent out late and it is a busy July 4th weekend. However, I wanted this to be a month long event and the weekend seems to be the best time for Playing Dishes for me! Hopefully, some table divas will break down their red, white and blue tables and repurpose the red and white into a holiday table. Or, maybe some will find time to creep inside to the airconditioned house and browse through their Christmas photos in an attempt to de-stress from the heat and Independence Day busy activities. Tablescapes are timeless when captured in photographs, so share some of your festive holiday table decor for our Christmas in July Tablescape Party.
I had a death in the family early this morning and did not get to work on my table. But, tonight, I decided to pull something together since I had this all ready to post with Mr. Linky.
This week I am displaying my new Farberware Christmas Treats dishes. I bought these on a 75% clearance at Big Lots in early December. The had been $20 for a placesetting for 4. There were two sets left so I got the service for eight for $10! I liked them because they are not the traditional bright red.
Table view from above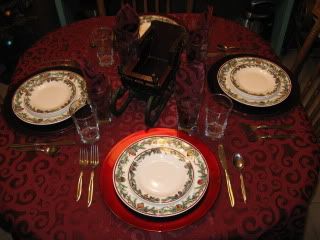 The plates are more of an off white color and feature a border of holiday ornaments on the outside rim area. The ornament colors are primarily burgandy and dark green. The set came with the dinner plates, dessert plates, bowls and coffee cups.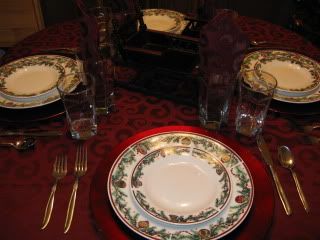 I had planned to use a floral centerpiece, but I didn't feel like having to uncrate it from my storage. So, I used this little wooden Santa sleigh that is also in the same colors of the dishes.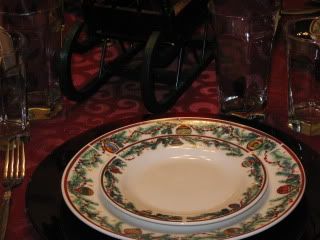 Sleigh centerpiece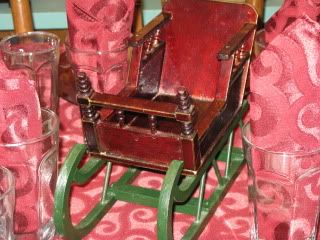 I bought the sleigh last week at an estate sale for $3. I tried several items in the sleigh, but nothing looked right, so I decided to leave it empty. Maybe it is at the end of Santa's deliveries, or before the elves load it on Christmas Eve.
Another view
My tablecloth and matching napkins were also an after Christmas clearance item. It is the same rich burgandy color. The stainless flatware is a set that we found in the top of my late MIL's cabinet in a wooden storage box. It is very vintage looking. I can't make out the name on the back, since it is in a scrolly typeface. The clear glassware belong to a set that I have had for years.
This view of the wooden sleigh centerpiece also shows my Christmas tree in an urn. This little tree has been up all year in the corner of my eat in kichen area.
I hope you enjoyed my first attempt at a CIJ Tablescape for week one of the party.
It will be a nice change of pace for breakfast in the morning.
If you are unable to participate in the CIJ Tablescape Party by Saturday, go ahead and link your photos in sometime during the long weekend, so we can enjoy a few minutes of Christmas cheer in July.
Remember the next three parties will continue on July 11, July 18, and the final event will be held on July 25. Each photo participant will have their name added twice in the giveaway drawing for a new holiday tablecloth and once each for adding the meme and a shout out about CIJ Tablescape Party. A random drawing will be held for this on Sunday, July 26 as Christmas in July enters its final week for 2009. If you would like to be included in the giveaway and don't have a CIJ tablescape to show, leave me a comment for one entry and/or place the meme on your blog about this event or give the event a shout out on your blog for one entry each. Be sure to let me know if you add the meme or shout out. The shoutout and comments and new tablescape photos can all be done each week for more chances to win.
I just wanted to get Mr. Linky up and running in case there are other tables tomorrow. Hopefully, a few will have time to post for this week.
If you are participating in the CIJ Tablescape Party, you will be using Mr. Linky to allow your wonderful table to be viewed from your site by all visitors to this blog party. Mr. Linky is easy to use.
Please publish your CIJ Tablescape Party photos and information post to your blog and then stop by this blog post and put your name and the permalink to your tablescape post into the Mr. Linky's sign up box.
In case you aren't sure what a permalink is, read on for information. It is a direct link to your post, as opposed to your general blog address. If someone visits Playing Dishes days or weeks after the blog party and clicks on your link, they will be taken directly to your tablescape post instead of having to search through your most recent posts to find it. It is really a very neat tool!
There are two ways to get your permalink. One way is to click on the title of your current CIJ Tablescape Party post, then right click on the URL address showing in the address field at the top. Then paste this link into Mr. Linky which will be available below. Click on "Enter" and you are all done! You will see your permalink posted.
Or, another way to add your permalink for Mr. Linky is to right click on the title of your current CIJ Tablescape Party post, select "copy shortcut" and then paste this link into the URL box on the Mr. Linky sign-up.
Clear as mud? It really is simple. Remember you are adding your URL to your post of
this week's entry
in the CIJ Tablescape Party.
Be sure to also copy and add the meme photo from the top of this post to the top of your post. That will allow viewers to know that you are participating in this week's Christmas in July Tablescape Party.
Mr. Linky is below!