Thank you for stopping by to visit my Christmas in July Tablescape Party---Week 2. I love Christmas and I love dishes, so this party was a perfect match to help get through the hot month of July. The party will continue each Saturday this month, so please come back and participate or to at least visit us.
As the guests, arrive, they will post a link at the bottom of this post on Mr. Linky to allow you to click to see their wonderful tables for Christmas in July. Be sure to check back throughout the weekend since some may be late in arriving. Be sure to leave comments for everyone since we are unable to see our guests. It is nice to hear that you were here.
An added bonus for just stopping by today is an entry in the July 25 CIJ holiday tablecloth giveaway. I will contact the winner on Sunday, July 26.
Enjoy your visit to each wonderful blog and the tablescapes.
It is so hot in Texas during Christmas in July that I like to think about cooler weather and the possibility of snow. I love snow, but we don't get a lot of it where I live, so I have to pretend and play with my dishes. I have four different sets (some are portions of a set)of dishes that feature snow in some form.
Today, we are going to cool down with a table featuring a cute snowman family on off-white stoneware. I actually found this set this week at Goodwill!
I ran up to a florist in a town a few miles from my home (a friend runs it) and made a quick stop in GW.
You know that you are addicted to thrifty shopping and dishes when you can't drive by a GW or other thrift store without stopping. Although I have numerous other sets of snow people dishes, this one was too cute to pass up. It was new in the box, but had a broken handle on a coffee cup. It was marked $10, but I pointed out the broken cup and they sold it to me for $8. Not bad for a place setting for four.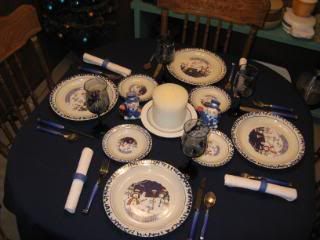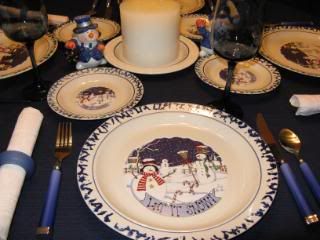 The tablecloth is a solid dark blue and I decided to use my newly acquired varigated blue handled flatware. (I have been using them way too much, but I really like them.)I found them at Big Lots. The varying shades of blue look nice with the shades of blue in the dishes. IRL the colors are perfect together. The photos look a little off.
I have numerous choices of blue glasses and stemware, but I had the most trouble finding one that looked all right. These are a dark blue that is a very pretty shade.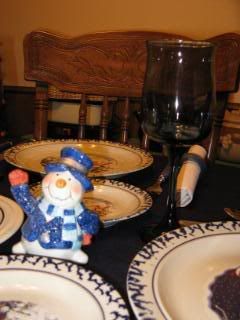 Even though I am hosting this CIJ Tablescape Party, I didn't have my Christmas things readily available. My dishes are mostly accessible, but things for accents and centerpieces are all packed and stored away. I found the two little blue snowmen in a small plastic container that I had put in the top of the closet, but couldn't decide what else to used for a centerpiece. Then, I thought why not just use a white candle since this is a snow scene. It is not very creative, but was the right shade since the dishes are not a bright white. I placed it on one of my everyday salad plates and flanked it with the snowman pair. It's not the greatest or most creative, but it worked for me today.
Close-up of place setting
I used a set of off white napkins with blue frosted glass napkin rings.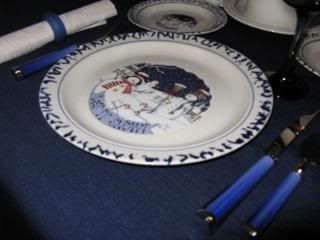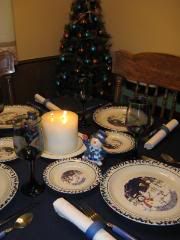 DH was at the golf course while I was playing with this table. He came in hot and exhausted from the heat and I asked if it was snowing at the golf course. He looked at me like I had gone over the edge and then immediately looked at the table and said, "Only in here!"
You've got to love a man who goes with the flow of Christmas dishes all during July and with the main room clock playing Christmas carols on the hour. Now, if he will just buy me a pressie on the 25th...
He also has been tolerant of that little tree in the corner behind the table. I never took it down. I just loved the colors with my room, so it stayed. This month I have another small tree sitting on the fireplace ledge, too.
Add to that a Christmas table a week this month and even one of my ice cream parties during the next several days has a Christmas in July theme. DH just shakes his head and says, "Whatever you want dear..."
DH taking an early evening snooze after a hard day on the golf course!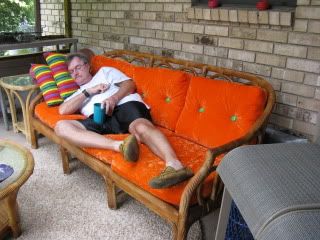 I love that man!
Felecia~printersdevil
P.S. Remember to add your permalink in the second box of Mr. Linky, not your general blog url. To get this address, double click on the TITLE of the post that you want to link and copy the url address. Paste this in the second box on Mr. Linky!
Happy CIJ blogging!