Woohoo! I almost forgot to stop by and list my wonderful thrifty find for the week. Leigh left me a comment on my holiday blog
Christmas Memories in My Heart
and I realized that I forgot to post this one on one of the thrifty sites earlier in the week. I love Leigh's
Bloggeritaville
site, but sometimes split my thrifty finds with other sites. I was so excited about the bar, but have had many life matters in the way this week and almost forgot to share this one.
We screened our back covered porch in recently. I had rattan furniture of my daughter's to use. (she's living at home at the moment and we decided to use this instead of just storing it.). I bought a new table and four chairs from JC Penney's back in May and wanted the bar and stools that matched it, but just haven't want to invest that much in it. I was hoping to pick one up when they clearance them.
Since I love to look at Craigslist, I had been searching for patio bars for several weeks. Last Saturday night, I found this bar that had 3 stools. It looked exactly like my table and chairs. It was located a little over an hour from me, but I called and talked to the owner and drove to see it. I couldn't believe it, but it is almost identical.
As you can see it does have some rust spots that I haven't worked on yet, but I got the bar and three stools for $50! I was so excited.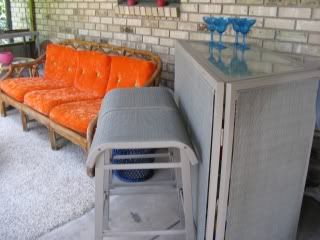 The air conditioner is broken in DH's truck, so I asked the owner if he thought it would fit in the trunk of my car. He said that it folded up and should fit since I drive a midsized car. DD and I went after it--enjoying the air in the vehicle since it was 103! We got there and removed the two shelves and glass top and it folded up to a nice side. However, it was too wide to fit between the wheels in my trunk. So much for a great bargain. I thought I was going to have to drive back and get the truck and then wilt in the heat.
The owner worked diligently in the heat to figure out how to get it all loaded. We ended up with one bar stool in the trunk with the folded shelves, top and bar on top of it. He used a wide strap bungee to tie the trunk door down. Actually it had to remain almost all the way open. The back seats were laid down and the other two bar stools fit there. So, we drove all the way home with the air on high and the entire back end of the car open to the heat. I wish I would have taken a photo of that site. DD called her dad and told him that we looked like the Clampett's driving down the highway.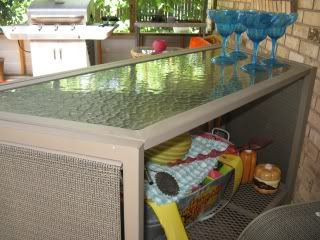 Please excuse the stacked shelf. I haven't had time to get the shelves set up yet.
Thanks Leigh for giving us such a great place to share our thrifty buys.