It's time again for
Beverly's Pink Saturday
and I am so excited. I have to have my weekly dose of pink! Click on the link above to see all the delightful pink items that were gathered for this week's event. Be sure to leave us all a comment so we will know you were here. We love to blush and turn pink with all the attention.
I spent several hours wandering through some local antique stores looking for inspiration this week and ran across this wonderful pink display and just had to show it to you.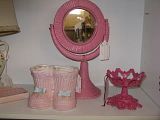 Although the items don't go together, the booth owner had grouped the pretty pink on a top shelf and it was so pinklicious! The ceramic baby booties would make a great centerpiece for a shower and the compote is adorable in a more fuschia color. My favorite is the stand mirror. It would be so precious in a little girl's room.
Thank you for taking the time to stop by today. Make sure that you visit Beverly and all the other lovers of pink gathered on her site today.