I am so awake and can't sleep. We had to have our beloved Blackjack put to sleep today. I am truly heartbroken. He was our special Grand-dog that belonged to my late son, Mickey.
Jack was diagnosed with a prostrate tumor in January 2008. The vet more or less told us at that time that he was living on borrowed time. However, we couldn't give him up. He took a round of antibiotics and got better. We knew that the tumor was there as we could see it as it grew in size. However, he remained very active and was not in pain. We knew from that day on that we needed to be prepared for his loss, but that dog was the light of the house. He had such a personality and everyone fell in love with him.
When Mickey got him, I was against it because I didn't want another dog. He called as he was pulling up to the house to tell me that he and Blackjack were home. They came in and Blackjack began to take over our lives. He was the most amazing thing.
He loved ice cream and wanted some every night. He never got much, but he would run to the kitchen and bark if he didn't get any. Some nights he would run around and around the kitchen, entryway and living area and stop near the fridge and do his short staccato Woof, Woof. On his final night, Mr. PD had gone to bed and he did his Woof Woof. I ignored him and he did it several more times. I got him settled down and convinced him that he was not getting ice cream and about that time Mr. PD came in and gave him some milk. Boy, that dog was spoiled. But, that was what made him special. After all, grandkids and grand dogs are meant to be spoiled.
We have known for the past week that his time was getting near and finally yesterday we knew that we had to make this decision. DD is leaving Sunday to go on a cruise and we couldn't wait to tell him goodbye while she was gone.
The three of us went together. First he had a nice warm bath and he rode the 20 miles to our vet in my arms. His eyes were so sad, but he knew that it was his time. The three of us held him until the end when he went over the Rainbow Bridge. I know that Mick was waiting for him with open arms.
We will pick up his remains on Thursday and take him to Mick's gravesite to be with him forever.
Mr. Nosy Blackjack sticking his nose in the Pampered Pet Swap that he and Duke received from my friend gustyd.
Blackjack in his Tot Spot lounge chair at the beach. He loved the beach almost as much as Mickey did.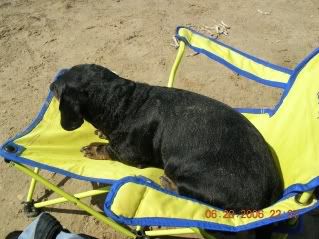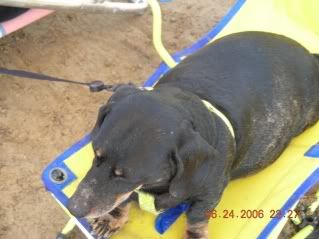 I miss and love you Blackjack and Mickey. Our Mickey has been gone six years on Monday. They are together again.