I wish I would have found this wonderful event earlier. But, today, it is therapy for me. I lost my wonderful Blackjack earlier this week. It was the hardest thing I have ever done to have him put to sleep, but I know that he is at peace now. Scroll down for a post about that day. However, today, I want to share a few favorite photos of him with you.
Be sure to stop by
Dogs on Thursday
and visit Natalie and links to all the other dog lovers.
Here is Blackjack on vacation near Galveston several years ago. He loved the ocean and would strut down the beach right in the edge of the water. Once, we walked so far that DH came after us in the truck. We go to a place where the beach is relatively secluded, so we have the luxury of not having to keep the dogs on a leash all of the time. He loved it.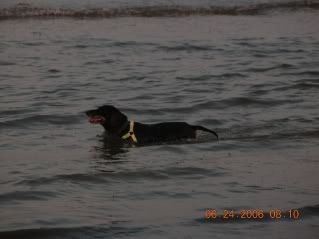 His favorite activity was playing with a blue crab. He would bark and bark at it when we beached one. He never hurt it, but would run at it and it would swat at him. Once he got too close and got his nose nipped. After that he stayed at a healthy distance.
On his first trip to the beach, we were with my sister and brother-in-law in their RV. In the RV park, he had to be leashed and he was not too happy about that. However, we went down the beach to swim and he had free reign. In the evening and early morning, we also took the leash off as we sat outside the RV. One morning he was sniffing around the tires of the RV and we heard the men laughing and him barking. He had found a frog and tried to eat it. Well, if you know anything about frogs, they don't take to this very well and well, pee, or emit this horrible liquid. Blackjack looked like he was foaming at the mouth. That also curbed his curious nature and he gained a healthy respect for other creatures.
The next two times that he went to the beach we had his brother, Duke, the Mini Pin with us. They are so compatible, but Duke is not as much of a beach bum as Blackjack. Their photo is in my sidebar.
There is a picture of Blackjack on his Tot Spot chair in the post below. He loved to climb up on it and rest. You can see where he collected a lot of the sand each day. He also loved his late evening bath/shower and heading into the cool house for the evening. He whould eat and crash until time to get up and enjoy coffee on the deck overlooking the beach. Then he was ready to go again.
My final photo of Jack that I want to share today was the last morning that we had him. He had a nice bowl of sugar free Jello, a bath and told us goodbye. I held him all the way to the vet and the three of us were with him until the end. We pick up his remains tomorrow and will scatter them where him son is buried. Blackjack was Mickey's pride and joy and they are together again.
Since this is my dishes blog, let me share a story about that night. When we came home without Blackjack, Duke was quite distressed. When Duke got ready to eat, he rounded the corner behind the loveseat and stopped in his tracks. Blackjack's bowl was gone and he stopped and just looked at the spot as if he knew. Duke has been very subdued the past few days. Last night we had 10 people over for a cookout and he finally perked up some, but these days are going to be hard on him, too, for a while.