Thank you Susan at Between Naps on the Porch for hosting today's
Tablescape Thursday
. Be sure to stop by and visit her and all the other participants.
It is so hot in Texas at the moment, that I don't even want to eat, much less cook! The only thing that salvages meal times around here is the abundance of fresh veggies during the summer. I enjoy using these cute
vetetable
themed plates for a nice cool dinner based on all the wonders of the garden.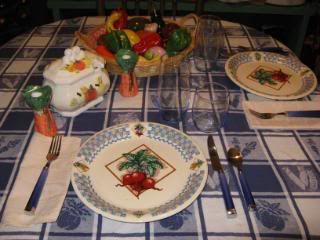 The plates feature a blue pattern on the rim with veggies inserted at intervals and a wonderful bunch of radishes in the center. My tablecloth is a blue and white one with various vegetables in the square block patterns.
Since the plates are an
offwhite
color, I used solid
offwhite
napkins and my
varigated
blue handled flatware that came from Big Lots. The glassware is a light blue and I used a tall glass for iced tea and the shorter one as a water glass.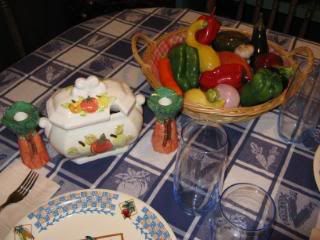 For the centerpiece for this lunch table for two, I combined several items. I used my small vegetable tureen flanked by carrot
candleholder
. I didn't want candles since this was lunch, but liked the looks of these. I think I will paint the inside for they won't look so much like
candleholder
in the future. I used an assortment of ceramic vegetables in a large basket to complete the centerpiece.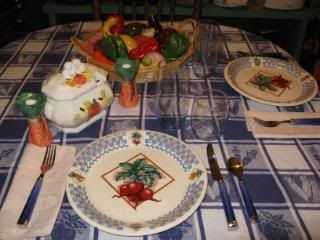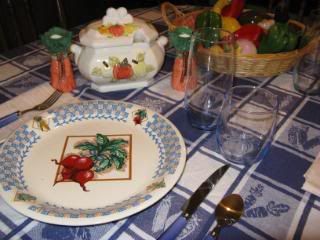 I hope you enjoyed my cool and crisp veggies
tablescape
. Now, I am off to visit my friend and pick up some fresh squash, okra, onions, and cucumbers. I still have a few tomatoes and picked some jalapenos this morning from my tub in the backyard.
DH is growing tomatoes in a Topsy
Turvey
planter. They haven't produced yet, but we do have numerous small ones and I see that he pulled one this morning to finish
ripening
on the porch sill. I planted them a little late this year.
Below are a few veggie recipes that we love in the hot weather. Neither is made from fresh veggies. We tend to just steam, bake, grill, or fry the fresh ones without bothering with a recipe. We so enjoy the few months of fresh veggies.
Both of these are made with canned vegetables, but are great cool things to enjoy in the heat of the summer.
Bush's Hominy Salad
1 15.5 oz. can BUSH'S BEST White Hominy
¼ cup chopped green pepper
¼ teaspoon pepper
2 tablespoons chopped onion
¼ teaspoon celery seed
1 cup sliced celery
1 cup cubed or grated cheese
¼ cup drained pickle relish or sliced olives
¼ cup mayonnaise
1 teaspoon salt
2 tomatoes sliced into wedges
Rinse hominy and drain well. Combine with remaining ingredients and chill well. Serve on lettuce, garnished with tomato wedges and more mayonnaise if desired. To make a main-dish salad, add 1 can drained tuna fish or 1 cup diced ham or 4 chopped hard-cooked eggs.
TEXAS CAVIAR
2 cans black-eyed peas, drained and rinsed
1pkg. Italian dressing made by directions, or 1 c. Italian dressing
1 bunch chopped green onion or 1 small chopped onion
1 med. Green pepper
4-oz. can diced jalapeno peppers or 5 fresh jalapeno peppers
4-oz. can diced green chiles
½ tsp. garlic salt
Mix all ingredients and chill. Serve with tortilla or corn chips.
Don't forget to check back at Playing Dishes on Saturdays this month for my Christmas in July Tablescape Party. Mr. Linky will be up on Friday evening. Come and join us or just to visit. Info is on my sidebar.
Thanks for stopping by to visit today. Be sure to visit Susan and the other participants in today's Tablescape Thursday at the link at the top.